Honeycat Cosmetics.....Oh La La Review & GIVEAWAY!
10:08 PM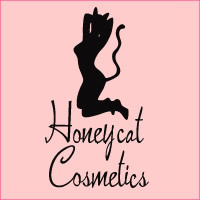 I recently had the opportunity to try out the amazing HoneyCat Cosmetics products., they have a full line of bath and body products for women that you will love.If you have never tried them, then you are missing out. It's pampering like you would not believe. They have some great specials on the Website right now in honor of National Bubble Bath day
One of the greatest things about HoneyCat Cosmetics is the packaging they come in. My all time favorite has to be the Bath Salts which come in a Sardine type tin but is absolutely adorable. If you take a look below, you can see how cute it is, and the Bath Salts are just a must have in my house for those nights or days when I want a Pamper myself day. Take a look at this cute tin the bath salts came in. I couldn't wait to use them but at the same time, I wanted to preserve the tin, but in the end, opening the Bath salts won out and I loved them. You can see on the last picture where I had opened them. I plan to save the Tin though because it;'s adorable.
The Honeycat Bubble Bath was in a small Bottle which reminded me of an old time Milk Bottle, adorned with a cute bow around the top. You may say well Bubble Bath is just bubble bath , but I can say that the cute bottle and bow were just the icing on the cake with the Bubble Bath because it smelled so aromatic and gave me just the right amount of bubbles and made my skin feel great and the smell of the Bubble Bath stayed on even after I ended my bath. Chris was quiet surprised because he hates Bubble Baths because he says it always makes him feel like he has soap left on him after the bath, but even he agreed that Honeycat Bubble Bath did not do that to him.
The favorite daily use product I found that I loved from Honeycat was the Honeycat Honey and Buttermilk Body Cream. While most companies would call it a body butter, this is definitely a cream and it makes your skin so soft and truly moisturizes. Again, I loved how it is packaged and it just screams feminine to me. I love the ideal pink theme on all the products and have had compliments on just the containers themselves.
Another great product is the Honeycat Lip Balm, which I carry everywhere I go. The Lip balm is very moisturizing and hydrating and I love the smell and taste.
If you have not had the chance to check out any of the Honeycat line, I suggest treating yourself for Spring and make sure to get some products stocked up for National Mom's night out, because even though it's Mom's night out, you are going to want to pamper yourself with the full line of Honeycat before you head out with your girls for a fun night.
You can find the full line of Honeycat Cosmetics products on the Website, and also check out their Facebook page for new products, specials and just everyday fun.
Now, the fun part, Honeycat is giving away some special products to four of my readers....yes 4 winners! How awesome is that!
Very Simple entry below ( I made this one very easy for you all)